Very Long Range Gold Detector System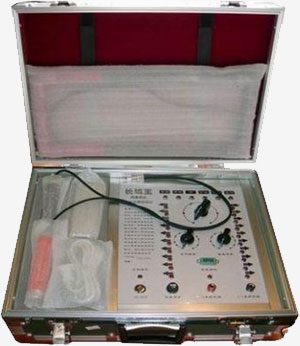 Introduction

It is an ultrasonic Long Range advanced Metal Detector System utilizing advanced FORWARD GAUSS technology that is both an audio and visual detector. This metal detector was first used in the field in 1984 and the FORWARD GAUSS technology that it uses has proven to be (by far) the most successful.

This system was originally developed for professional archeologists and treasure hunters and has been used both on land and under water. With the development of faster and more complex processing units and a reduction in the cost of materials, we are able to begin offering this breakthrough technology to the general public at a much more affordable cost. Part of the success of this metal detector system is that it does not look like a standard 'metal detector'. Instead, it has the appearance of a fine, well manufactured piece of scientific equipment that one might expect to find at an archeological site. It is 'custom built' in a sturdy, hard side, padded case with two locks. The transmitter is case mounted and includes the 'Standard Six' elements with selector switch. The system includes an installed, rechargeable gel cell battery with charger, transmitting antenna, receiving rods and receiver with belt clip, headphones and user manual all inserted into the specially fitted case.
Features and Functions

It has a function of indicator lights. These indicator lights show 20 different distances between the user with a receiver and the transmitter. Most common frequencies are Rock Gold, Sand Gold, Silver, Bronze, Brass, and Precious Stone.

Detecting Range:100-1000m

Detecting Depth:5-50m

After tracking target, you will have some idea of the identification and the exact pinpoint. The face (front) of the transmitter has six LED's (channel indicator lights) across the top; each is labeled for a particular element.

Package Includes

A black case with aluminum trim, a handle and two locks

External Battery Port

The Belt Receiver

Head Phones

Receiving Rods

Battery Charger, AC/DC adapter, input AC 115V, output DC 9V

Antenna

Marker Flags

Operation Manual

Specifications

Max Detection: 5-50m Detect Range: 100-1000m

Rechargeable Battery: Continuous working 48 hours

Power: 850mA

Frequency: 433MHz+/-150KHz

Inner Storage: EEPROM 16k*8Bit

Voltage: 9~12VDC

Temperature Range: -40~85

Operating Humidity: 0~95% (non-condensing)

Ultrasonic Frequency: 400-3000MHz+/-150KHz

Weight: 14lbs