Security / Safety / Bulletproof Film

Never lets anything PENETRATE through your glass again. Protects your home / business from Burglar, Bullet, Explosion, Natural Disaster, etc...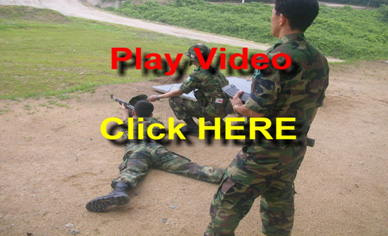 Security Film – It is a special reinforce film with high quality material to withstand high impact such as Hard Object, Bullet and Explosion. Withhold glass from breaking into pieces and prevent penetration which may create danger to human life or property.
Product Family
We have three categories of security films i.e.:
Safety Film - To withhold glass from breaking into pieces by accidental knock by hard object, human or natural disaster.



Security Film - To withstand high impact knock by purpose such as burglary, robbery or attack and natural disaster such as typhoon, earth quake, flood...etc.



Bulletproof Film - Human life protection from planned attack such as terrorism, explosion or assassinations. To stop bullet and explosion from glass penetration and protect human life or property. Resistance capability depends much on type of armor, bullet, thickness of glass and number of layer.
Advantages of Security, Safety & Bulletproof Films
No blocking and gives you a very clear view of your glass.


Protection against Weapons, Natural Disaster, Explosion, etc...


No penetration on glass regardless of man-made or natural disaster.


Life time endurance


Compatible cost against others material


Easy installation


No renovation required


Solar and UV filtering


Provides cooler environment


Protects your property or goods from robbery, riot, such as banks, display cabinet, museum, etc.


Classification of Usage:
| | | | |
| --- | --- | --- | --- |
| Type | Safety Film | Security Film | Bulletproof Film |
| Application | Breakage Proof. Prevents from being injured because of pieces of broken glass and is to be used for exterior glass of the 2nd floor or above buildings as well as interior glass. | Burglar-Proof for exterior glasses of building or vehicle to protect it against high impact knock such as Hammer / Typhoon / Flood / Robbery and keep your property or life safe. | Bulletproof and Explosion proof. Protection from high performance weapons impact such as Hand gun, M60, Auto Guns, Heavy Armory, etc... |
| Thickness | 0.102mm | 0.203mm | 0.305mm |
| Strength | 112 lb/inch | 224 lb/inch | 336 lb/inch |
| Light Trans | 93% | 93% | 92% |
| Solar Rejection | 17% | 17% | 17% |
| UV Rejection | 90% | 93% | 96% |
| U Factor | 1.02 | 1.02 | 1.02 |

Application
For the buildings of Government offices and others to keep confidential and safe.


Airport, Terminals, Hospitals and others where a lot of people are crowded.


Exhibition Center to display and sell out commercial products and property.


Vehicle of Police and Governmental organizations to keep public peace and VIP protection.


Crime areas and building where various kinds of violence and terrors often occur.


The areas where Storm, tidal wave and earthquake, etc may occur.


Bank, Jewelry Store and others where jewelry may be stolen.


The place where robbery and burglary crimes are likely to occur after glass window being broken.


The place where pieces of broken may fly away from high rise building.


Resorts, Villa and Garden House.


Military bases and the places in the risk of stray bullet.


Kindergarten, Reformatory and Public nursery.


Ship, Beacon, Coast defense sentry box.


Airport control tower and other aviation facilities.


Veranda of apartment houses and other places where burglar-proof window is needed.


Film Standards :
Safety Film
Description
Roll Dimension
112C
136G
136B
136G
C - Clear
G - Grey
B - Bronze
G - Green

1524 mm
X
30M
Security Film
224C
248G
248B
248G

Bulletproof Film
336C
360G
360B
360G