Handheld Metal Detector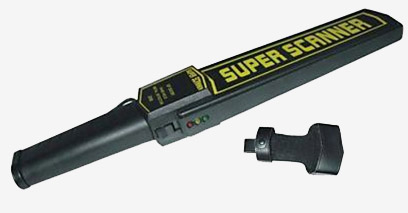 Description

The high performance hand held security scanner is designed to meet the exact requirements of the security industry. Typical uses will include body search for offensive weapons in crowd control, airport and border security, checking parcels and letters for metal objects and anywhere that hidden metal needs to be detected.

It operates on one 9-volt alkaline or rechargeable battery. It comes with FREE holster. In a side by side demonstration, this new metal detector stood up to major brand metal detectors and performed just as well.

Technical Specifications
Power: 9V (6F22)
Operate Frequency: 22 KHz
Operating Temperature: -5íŠto +55íŠ
Operate Current: < 50mA
Operate Voltage: 7V-9V
Indicator Visual: Red / Green LED
Sound: Speaker
Vibration Control: On/Off Switch; Low sensitivity Switch Sensitivity Adjuster
High Sensitivity : 15mm at Pin; 45mm at USD 25 Cent
Low Sensitivity Detector only respond to bigger metal article
Such as a 38Caliber hand gun (20cm), Pen knife (15cm), Razor blade (10cm) etc.
Dimension of Unit: 41(L) X 8.5(W) X 4.5(H) cm
Net Weight of Unit: 409G
Color: Black
Attachment: a free Holster