Wired / Wireless Camera Bug Detector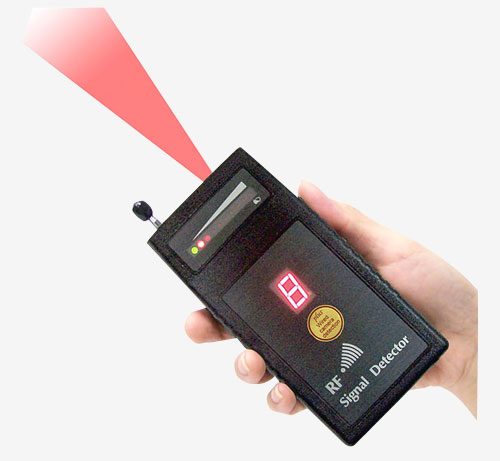 Description

This model is the newest top quality portable RF bug detector. It can be used to detect and locate hidden transmitters (bugs) in your home, office, or car, and also wired / wireless spy cameras, cellular phones and other radio frequency devices. It performs a professional RF sweep of your premises. Designed with the latest in microchip countermeasure technology, it has an operational range of 50 MHz to 6.0 GHz. This state-of-the-art unit has features that are normally reserved for bigger and pricier units. It is specially designed for easy and simple use, which does not require complicated installation or any professional knowledge.

This new wired camera / wireless camera detector & RF Signal Detector apply digit (numeric) display to show the sensitivity level.

With up and down buttons, user knows the sensitivity setting directly.
Features
Set the Wired switch on, it will active the ultra-bright LEDs for scanning suspected areas



Easy setting for suitable benchmar



Gain longer detecting distance in low noise environment



Confusion free with factory default benchmark



Battery low warning
Specifications
Size: L 14 x W 7 x T 2.5 cm



Weight: About 180g



Detecting range: 50MHz ~ 6.0GHz covering all types of wireless, camera, hidden microphone and cellular phone.



Input power: AC/DC both available

(a) 12V DC 1A switching power adaptor.
(b) Built-in rechargeable battery pack.


Warning mode

(a) Beep alarm sound
(b) LED indication
(c) Vibration
(d) Earphone silent detection


Sensitivity turner

(a) Adjust detecting distance to find signal source
(b) Eliminate the environment interference



Detected distance*

(a) for regular 10mW 2.4 GHz camera: 35 feet
(b) for regular 10mW 1.2 GHz camera: 40 feet
(c) for 2G cellular phone: 50 feet
(d) for Wired camera: 15 feet.

*The detecting distance of wired / wireless bug and mobile phone will be varied depending on the signal strength.